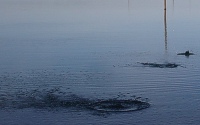 Today's challenge is based an idea by Dave Ferguson "Three Links Out" or "Three Clicks Out." This challenge is designed to help find and explore new blogs.
It's a bit like skipping stones…one, two, three skips…but doing it by visiting different blogs. Finally at the third blog the task is to leave a message.
My Blog Skipping Adventure – Take 1
First skip: I started with my own Ruminations of an Online Instructor / MD Blog (since I am spending a lot of time on the site thanks to the challenge.)


Second skip: The Edublogger site run by Sue Waters and read the post on Are You Making Your Life Easier By Using A Personalized Start Page? and decided I needed to spend some more time reading this post that I'd missed.
Third skip: Visited n2teaching and left a comment on a post about Lives of Teachers: Public or Private?

I think the emergency of social networking has really changed how people interact online. Many have chosen to make things public, that perhaps should remain private.

The fact that future employers and colleges may search online for prospective employees and students can reveal all sorts of things that might not be desirable.

It will be interesting to see if people start changing what they are posting realizing that what gets posted on the Internet suddenly becomes a public and potentially permanent.

I really like the idea of a Google alert for one's own name as a way of monitoring what is out there.

Thanks for giving me something to ruminate about for the Comment Challenge.
My Blog Skipping Adventure – Take 2
First skip: I starting at A GeekyMomma's Blog with her post on What Posts Stimulate Readers To Comment?

Second skip: I jumped to a blog on the blog roll Blogging on the Bay, Creating a Path to Techno-Constructivist Learning in the Classroom. I noted the prominent disclaimer that I may end up including something similar on my own: The opinions expressed herein are my own and not necessarily those of my employer.

Third skip: I jumped to a link in the Blogroll for Diigo, another social newtorking tool that I hadn't heard about. Instead of leaving a message, I decided to bookmark it for later review and did a quick review.

Diigo is an online community for learning people, where information, knowledge and community come together. The cool feature here is Diigo allows you to highlight portions of web pages that are of particular interest to you.

Day 20: Three Links Out
The activity was based an idea from Dave Ferguson "Three Links Out" or "Three Clicks Out." The Three Links Out is an easy way to find and new explore blogs.
After following links from the blogroll or from commenters from one blog to a second and then finally a third, the task is to find a post and comment on it.
Accomplishments Day 20
1. Skipped through two different Three Links Out tasks.

2. Found and responded to two different blogs with posts.

3. Wrote and Published the Day 20 post on Day 20!
Reflections & Revelations Day 20
The post on the n2teaching got me thinking about just how much information someone should be divulging online. Since many of the people finding themselves in trouble have made unwise choices during college, it may be important for us as parents and as educators to be educating high school and college students that "what gets posted on the Internet suddenly becomes a public and potentially permanent."
I was relieved when I realized that are 2/3 of the way though the challenge. While it has been a learning experience, it has also been a bit more of a challenge than I thought it would be to keep up with the activities daily.
Image: Skipping Stones. Creative Commons License.
This blog post is part of The Comment Challenge, comment08.
Tags: 31 Day Comment Challenge, blog hopping, click outs, comment08, Education Blogging, Education Blogs, link outs, Online Community