Saturday, May 24th, 2008
It took me a bit of reflecting to figure out why this challenge–posting a message in a foreign language–was more challenging for me than most and why I ended up modifying the challenge.
Many of the people in my family of origin speak Finnish as a first language (my mother, aunt, uncles and many cousins), so when I was learning foreign languages in school, I always wanted to make sure that when I spoke or wrote the language, it was perfect.
Even with using Google Translator, which would assist in reading a foreign language blog post as well as translating comments into the proper language, I still felt extremely uncomfortable about posting in a foreign language. When I played with the Google Translator and ended up with responses written in languages using different characters, I was even less sure about posting the characters.
I then decided that if I am going to be commenting on a blog post (which I haven't be doing a lot of), it would be better to post on a blog from someone in the challenge, so I morphed the activity to being one where I would post a comment on a blog from one of the 31 Day Challenge Participants that was being written in a foreign country.
Chosen Blogs & Comments
The simple sentence that I decide to have translated was: "Greetings from the 31 Day Comment Challenge."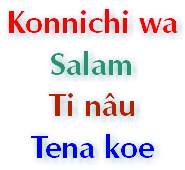 In Japanese 日からのご挨拶コメントの挑戦です。
In Azerbaijani wasn't an option. Had to go with Russian, Поздравления с Днем 31 Комментировать обстоятельства.
In Vietnamese. (I used http://vdict.com to translate the Vietnamese into English) Những lời chào từ 31 Thách thức Bình luận Ngày
In New Zealand. (I picked Maori from the page "Hello in Many Languages") Tena koe from the 31 Day Challenge.
After seeing the translations in foreign alphabets, I decided to keep the translations just for this post, since I didn't know if posting text in a foreign alphabet would just end up a garbled HTML mess. So I posted a simple "Hi" in the language of the blog and the fact that I was posting from the 31 Day Challenge.