Sunday, May 25th, 2008
The task for the day is to Take a Break. I saw this before today and decided to set something up in advance to take the day off (which is nice because it's in the middle of a three day weekend).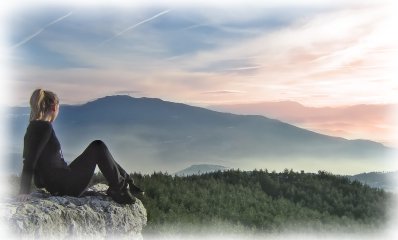 This image of sitting on top of a mountain is perfect for my Take a Break day.
Day 25 Activity – Taking a Break
The task for Day 25 was to take a day of total rest. No pressure to comment. No reason to do anything on your computer at all if you don't want to. Just relax. But perhaps most of all the comforting reminder that "We'll be here when you get back."
Reflections and Revelations
On Day 16, I opted to take A Day to Breathe & Catch Up. Taking a day to just do something fun, like finding an incredible mountain view to post was a great break.
Image Source: Muris Kuloglija Kula Asja. Sarajevo under fog. Royalty Free Use.
This blog post is part of The Comment Challenge, comment08.