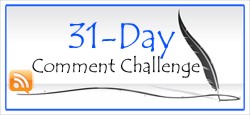 I received an email update yesterday from Edublog encouraging me to Join the 31 Day Comment Challenge and I decided to sign up.
I am # 92 on the list, signed up the the Ruminations of an Online Instructor / MD blog.
Getting this blog up and running is my personal summer project, so joining the challenge seems like a good way to accomplish that goal.
The primary purpose of the 31 Day Comment Challenge is to encourage participants to
"spend a month of focused commenting for us all to become better blog citizens by actively participating in conversations and sharing our learning, especially with those new to blogging."
My Personal Goals for the 31 Day Comment Challenge
1. Get the Ruminations of an Online Instructor / MD Blog up, running and established.
2. Follow along as possible the 31 Day Comment Challenge Daily Activities.
3. Meet, interact with and leave blog postings for other fellow participants.
4. Learn more about blogging and educational uses of blogging.
5. Record and reflect what I am learning about the process.
Activity Day 1: Do a Commenting Self-Audit
The questions for the first day were about the frequency of commenting on other blogs and tracking blog comments. Since I don't tend to comment on blogs in general, my frequency is nil and there are no comments to track.
Activity Day 2: Comment on a Blog You've Never Commented on Before
This was pretty easy, since I was confused a bit about the process. I left one comment on Silvia Tolisano's Langwitches Blog on the 31 Day Comment Challenge- Are You Up for it? post about needing a crash course in 'blog comment speak' and about using coComments without installing it.
I left a second post on Sue Water's Edublog post on How keep track of new comments on other bloggers' posts still trying to figure out how to get coComments to work without installing it into a browser window.
Accomplishments for Day 1 & 2 of the Challenge
1. Joining the challenge.
2. Getting Ruminations of an Online Instructor / MD listed on Technorati.
3. Reflecting on Day1 and Day 2 Activities.
4. Posting Comments to other blogs.
5. Joining the coComments group on the 31 Day Challenge.
6. Writing and Posting a Blog Comment in my own blog.
7. Adding the information about my blog post to the Comments '08 page.
Reflections on the 31 Day Comment Challenge Process – Major Frustrations with coComments

So far I don't like coComments and feel that I've spent too much time trying to figure it out. In trying to install coComments I met with several different levels of frustration. I elected to not install the simple extension tool. I was unable to install coComments Bookmarklet (it would not drag and drop to my Firefox browser window). I was unable to claim my blogs on coComment, despite stepping through the steps to claim blogs on Technorati.
After spending way too much time trying to figure out co Comments, I finally decided to manually keep track of the comments that I've left for today and see if I can figure out why the coComments isn't working with my computer/browser. Understandably, the challenge will be even more challenging if I am having to keep tabs on my own comments.
Revelations: These frustrations that I am experiencing with trying to get the coComments, a new tool or program for me, installed are similar to students trying to figure out the online arena. If someone is unable to figure out an application (or course) in a reasonable length of time, they may be likely to give up and in the case of an online course quit.
This blog post is part of The Comment Challenge, comment08.