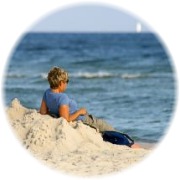 Thankfully the task for Day 16 is a day to relax and unwind and catch up on something. Since I've been playing catch up for a couple of days, getting challenge days posted this is a welcome break and gives me a chance to breathe a sigh of relief and at least a visual visit to the beach.
Michelle commented in today's challenge that "…from what I can see, a lot of us are feeling a little behind. Worse, a lot of you are totally stressing about it, too! Don't put so much pressure on yourselves, people–this should be fun!"
Furthermore she advised "If you're an overachiever who's managed to keep up with every day's activity, then consider today a day of rest." I've managd to catch up with the activities today, so I am going to consider today a rest from blogging and I'm going to take a rest from commenting (even though I am behind on that also).
Day 16: Go Back and Catch Up on Something
Today's challenge was to go back through the previous 15 days, find an activity you didn't do yet, and go do it *or* since we're at the half way point, to take a little break.
I am opting for the break.
Accomplishments on Day 16
Deciding to take the break from blogging, since I had caught up.

Writing and Posting Day 16 in the morning!

Catching up on some non-blog related activities. 🙂
Reflections on Day 16
It was good to see Michelle's post today. It helped confirm that I may not have been the only one feeling a bit stressed about keeping up with the Comment Challenge. I had two blog challenges going on this week, in addition to teaching summer school–definitely a bit too much all at once.
I realized that during this second week, I've spend so much time scrambling to keep up with the postings that I haven't kept up with the responding and commenting on other blogs. I will have to focus a bit more on that during the second part of the challenge.
Revelations I am an overachiever, perfectionist, but I already knew this.

Image Source: Magda Czajka. Woman Watching the Sea. Royalty Free Use.

This blog post is part of The Comment Challenge, comment08.