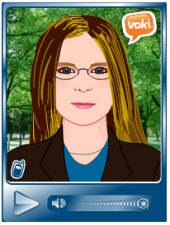 Since the challenge for today was to think about using multimedia and other ways to comment on blogs I decided to review and explore some ways of using multimedia in this blog and for blog commenting.
My Voki
The first multimedia application that came to mind for today's activity was the use of the Voki.
The Voki is a fun way of creating a talking voice character or a computer-generated avatar, but it wouldn't be easily available for posting comments in a blog.
Sharing a Health, Nutrition & Wellness Lecture
The next multimedia option was using .docstoc. I've already included one lecture of my on the Ethical Challenges of the Medical and Healthcare Internet in a prior post on Discovering Medical Ethical Challenges Lecture on .docstoc.
I uploaded a new lecture to my .docstoc one that I recently gave on Health, Nutrition and Wellness, on How to Live a HEALTHY LIFE.
.docstoc is a great way of sharing professional documents, such as PowerPoint presentations. It would be more than one might need to respond to a typical blog post, but might be included as a linked reference.
A Look at Other Multimedia Options
I'd already briefly looked at several multimedia options for getting PowerPoint Lectures online.
.docstoc

–

http://www.docstoc.com

– .docstoc is a user generated community where you can find and share professional documents. Upload your documents for all the world to share.

Slideshare

–

http://www.slideshare.net

– SlideShare is the world's largest community for sharing presentations. It is the best way to get your slides out there on the web, so your ideas can be found and shared by a wide audience.

Slides on Line

–

http://www.slidesonline.org

– a digital library made for physicians worldwide to access slide presentation on most updated research and clinical disorders.
Two new Multimedia options discovered as part of Day 24's post include:
VoiceThread – http://voicethread.com – A VoiceThread is an online media album that can hold essentially any type of media (images, documents and videos) and allows people to make comments in 5 different ways – using voice (with a microphone or telephone), text, audio file, or video (with a webcam) – and share them with anyone they wish. They can even be exported to an Archival Movie for offline use on a DVD or video-enabled MP3 player. A VoiceThread allows group conversations to be collected and shared in one place, from anywhere in the world.
Scrapblog – http://www.scrapblog.com – Scrapblog enables everyday people to express themselves online in a creative way. This service allows for combining photos, videos, audio and text to create multimedia scrapbooks.
Another Multimedia option that I've seen used quite a bit.
One True Media – http://www.onetruemedia.com – One True Media an easy-to-use online service that makes consumers both producer and director of their own video creations. We offer an innovative and painless way to transform video and photos into polished video montages that can be shared with friends and family.
A Look at Other Ways to Comment in a Blog

I took a look at the suggested resources for discovering different ways to comment in a blog.
Seesmic – http://www.seesmic.com– allows you to create video comments that can be uploaded to blogs using WordPress. According to their wiki you can also

Record one or more Seesmic video's to a post.
Accept authenticated or anonymous video comments.
Moderate video comments exactly like text comments.
Snapvine – http://www.snapvine.com – Using the snapvine Voice Player, users are able to safely communicate, in their own voices, with their online community with snapvine's easy-to-use products that work on any cell phone, with any carrier.
Thoughts on Multimedia Commenting
I filed these under the Reflections & Revelations for Day 26

Day 26: Exploring Other Ways to Comment
The task for Day 26 was to explore how multimedia might be used for a richer commenting experience, whether or not you think multimedia is a better option for comments and how it might impact learning.
Accomplishments for Day 26
Reviewing some of the different multimedia options for commenting.

Reviewing some of the different multimedia options for blog posting.

Discovering that I don't like video taping myself.

Realizing that it is faster, therefore more efficient, for me to type comments rather than figuring out how to record a video tape or an audio clip.

Confirming that my online preference is strongly text based.

Recognizing that there may be some benefit to being able to easily record audio clips as feedback comment for students on papers.

Recording audio clip for voki

Adjusting and uploading a Health, Nutrition & Wellness Lecture

Writing and Posting Day 26 of the Challenge.

Congratulating myself on almost completing the 31 Day Comment Challenge.
Reflections & Revelations for Day 26
This exercise helped confirm what I know about my primary learning preferences. I am much more of a visual learner than an audio learner. In addition when it comes to blog commenting, I am interested in being as efficient as possible.I also discovered that I don't like to video tape myself, so would not be likely to use a video comment.
After trying the Blog Sprinting – Five Posts in Five Minutes I discovered that it was very difficult to leave a blog post in a short length of time. For me, leaving an audio or a video message would take even longer and more of an effort, so for a typical blog comment, I can't see using it routinely.
I might use an audio with text comment if I was concerned about my written comments being misconstrued or if I was commenting back to students.
I did like exploring the multimedia options as a great way to make a blog more interesting, I just don't think I'd spend the time using them to leave an audio or video blog comment.
This blog post is part of The Comment Challenge, comment08.